Make an eco-friendly choice in the shower with Bar Shampoo.
I don't remember the last time I bought shampoo. My husband travels so much for work, he always brings home those little bottles of shampoo and conditioner from hotels. Past of me feels bad about how much plastic goes into making all those hotel bottles, so I bring them home, so they're not tossed half empty. We've got so many of them that I can now be choosy about which hotels he brings them home from…. When guests come over, they get their own little set up. I've even donated bunches of them to charities and homeless people.
Many of the hotels are now moving towards the gym shower style setup and have the pumps in the shower. I love that they're no longer using millions of little plastic bottles, but I also wonder whether some freak used the room before me and contaminated the bottle. I know there's a lock on there, but I'm kinda OCD about things like that. On the plus side, if you do have a little container with you, you can refill it here. 😉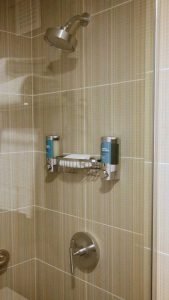 Almost everywhere I go has the option of these two things, but if you're going to stay at an Airbnb, or backpacking around to youth hostels,  camping or even going on a boat trip, you might not get given basics like shampoo. TSA has made it a pain in the ass to travel with liquids, and the tiny bottles don't last long.
So I was pretty excited to learn about Bar Shampoo.
It's just like bar soap, except it's shampoo. No plastic bottle, no need to refill, no need to put them in a little clear plastic bag when going through the airport. At home you're not cluttering up your shower with a bunch of bottles.
Just like regular shampoo's, you can get different types. Frizzy hair? Check. Like different scents? Check. You can even get one with five different small ones so you can try them all and see which one you like best.
Best of all, many of these are not only better for the environment,  but better for you as well, since they don't have a bunch of chemicals in them. Many of them are sulphate free, paraben free, and phthalate free, and made from organic ingredients. It's a win for you, and the earth.

So next time you need shampoo, ditch the plastic and try one of these instead.
Let me know if you've bar shampoo, and what your experience was. Do you have a favourite brand? Does one work better than another? Are they easy to travel with, and what did you put your bar shampoo in for travel?