$20 from every caftan will be donated to A Minor Consideration
https://www.instagram.com/p/BjsiG7Hg2Ys/
A Minor Consideration is a 501c non profit created to help past, present and future child performers. You can read the official blurb at the website, but basically, it was founded by Paul Petersen, after seeing yet another former child star die.
People think child actors live a charmed life, the reality can be quite different. Child performers are exempt from child labor laws, there's only four US sates that have enacted the Coogan Law, which ensures kids receive at least a portion of their earnings, and it might look fun, but the reality is that it's still work. While most kids are out playing, kid actors and models are expected to behave like small adults, and work like them.
You can read about my own childhood on Australian TV in my book, Allegedly.
I found A Minor Consideration after going public with the abuse I went through on set, and Paul took me under his wing, introduced me to a group of other former child actors, and really helped save my life. My last day in court left me in tatters, and as I was looking at a bottle of pills and bottle of wine, my phone binged with a photo of our group, sending me their love, and it pulled me through.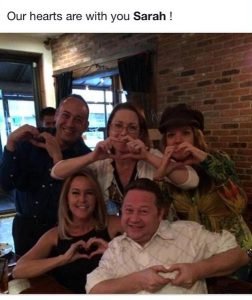 We've all been through bad days, and sometimes it just takes one person to give us life. I wish more people could have the same support system I had. The death of Kate Spade yesterday makes me very sad. She was in a very dark place, while portraying a happy exterior for her brand. While going through my own court case, publicly I was the face of the case, and had to be super strong for everyone. In reality, I was sad, scared and alone, especially since I was overseas and away from my husband. I wish Kate had had someone message her out of the blue when she most needed it.
I'm in an amazing place now, and feel like we all go through bad shit, but it does pass. You just need to hold on and ride it out. I want to make sure others are able to ride it out too, and that nobody thinks their only way out is suicide.
I want A Minor Consideration to be able to help other child actors like me. I want to help them fight to enact child labor laws. I want to make sure other kids are protected on set, and they have their money when they turn 18. I want them to know they're not alone, and I want to make sure future kids aren't abused on set, or put in dangerous situations.
Most of my caftans are made for petite ladies, but there are some longer ones for regular height people, or can be worn as cute tunics over shorts or pants. If a caftan isn't your thing, but you'd still like to help, you can donate to AMC via paypal on their wesbite, www.aminorconsideration.org/fundraising/ or by using Amazon Smile and picking AMC as your charity. Read more about how that works here.
Thanks everyone.
Also, if you're having a bad day, remember people love you. Whatever it is, it will pass. Hold on, be strong. Life will be wonderful again soon.