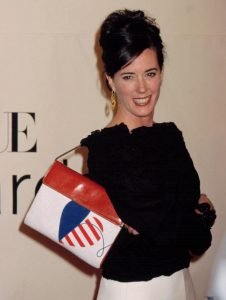 Yesterday we lost another great fashion Icon, Kate Spade
Kate's designs were bright and happy, and people stated you couldn't be sad walking into a Kate Spade store. She projected an image of happiness in all her interviews, but we've since learned that it was a carefully crafted image to maintain "the brand."
It can be dangerous when a person is also seen to be a brand. The pressure to maintain an image, at the cost of personal health, both physical and mental, can be unfair. People expect a certain image from the founder, and the public isn't always forgiving of a bad day or a need for a time out.
Double down the need to maintain a public image, with the pressure of the current state of fashion, and the need to launch a new collection every week, and it's no wonder that many designers are breaking down or walking away.
My own father was a fashion designer. (He died at age 36 of a heart attack) Back then, there was pressure to make beautiful clothes, but there was still seasons. Summer, Winter, and Resort. Then the industry moved to Spring, Summer, Autumn, Winter and Resort. Now, in our days of consumerism, and each brands need to keep it fresh, there are new clothes coming out every week. There is no longer distinct seasons, it's just weeks.
I was going to launch a clothing line, and when I talked to a manufacturer, they asked where my next set of clothes were. I had designed a small capsule, because I honestly think you don't need an unlimited amount of clothes. It seems like the more clothes people have, the more likely they are to say they have nothing to wear. The most important thing my Dad taught me was to dress for comfort, not for fashion. He believed in having a personal style, and that you should have beautiful basics, and you can add accessories if you wanted to be current. It's better to invest in a few well made pieces, that are timeless, that fit well, and are well made, than buying some new cheap thing every week, that doesn't fit well and will become landfill in a month.
Fast Fashion is bad for the environment, it's dangerous for workers, and it's stressful for the fashion houses and designers.
I urge everyone to watch the documentary The True Cost.
Look at your wardrobe, and make informed purchases. See what you have, what you need, and then just fill those gaps. Look for brands that are ethically made. Look for designers that pay their workers well, use sustainable fabrics or who give back to charity.
Buy clothes that fit well, and are timeless. There's nothing worse than buying something you can't wear again next year because it's so trendy it instantly dated. You don't have to stick to solids, there's plenty of lifestyle brands that have prints that are still wearable season after season. Think Lilly Pulitzer, Island Company, Tommy Bahama. All bright and fun, all classic and wearable for years to come.
Living on a boat forces me to be really picky about my wardrobe. I'm not just a small person, but I also want to be Small on the Earth.