White linen. Is there anywhere that it looks out of place? You need a few white linen pieces in your wardrobe. I could have my entire capsule wardrobe with just white linen, and add in some colorful accessories. It's soft, comfortable, and is effortlessly elegant. It always looks classy. You can wear it in Palm Beach, Italy, Sydney, India or Bermuda and everywhere in between. It never goes out of style and you'll never look back at holiday snaps and ask yourself "what was I wearing?" I've got shorts, pants, shirts and dresses that I take everywhere. They match everything, and they're great for hot places because they breathe, and you can hand wash and they'll dry quickly in a breeze. This cute @islandcompany dress kept me cool and effortlessly chic for both sightseeing and going out to dinner in Bermuda. Well, it's actually a tunic, but on petites like me, it's a full dress. 👍🏽 . . #shrimpwears #islandcompany #whitelinen #resortwear #islandstyle #travelwardrobe #capsulewardrobe
Yep, white linen is one of my favourite things. When I eventually create my own line, the first collection will be an all linen capsule, with all the essential pieces; shorts, pants, shirt, skirt, shift and blazer. You can then mix and match a few other pieces, and have the perfect summer wardrobe.
Some people are afraid of linen, because it wrinkles so easily, but honestly, that's part of my love for it. I love that crushed look, just like I love eating messy tacos that leave stuff everywhere.
It's classic, timeless, and always looks classy. When you see a man or woman in linen, you imagine they must travel to exotic locations, and probably spend time on a yacht. There's just something old money about it.
I find my white linen shorts are probably one of my most worn items. They go with everything, they wash easily, and they just work. They're also super comfy. Here's a selection of pictures to show how versatile they are. Go classic nautical in white and navy, go all white, or add a splash of color. The really are the workhorse of my wardrobe.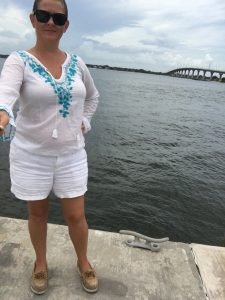 Not into shorts? How about white linen pants. These are everywhere at the beginning on spring, and whether you prefer a baggy pair or something more structured, they are the quintessential linen item. If you only own one linen piece, this is probably it.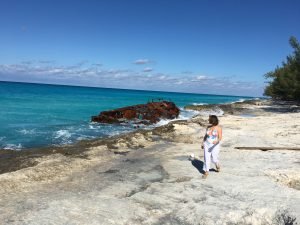 I think a white linen shirt is also a must have. Above I let my bottom half be my neutral, but if you want to be a bit more festive on the bottom, or just want to look super crisp, a linen button down shirt is always a winner.
Linen dresses are comfy, flowy and effortlessly elegant. They go from pool side pina coladas to martinis at the yacht club. Whether you prefer a caftan, a button down dress, or just something breezy, you'll always look fabulous.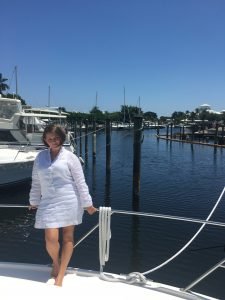 Sometimes wearing white on white linen can make you look like you're in a cult, so don't go too bohemian with it, or talk to yourself….
One last pic, because I really do love the white and navy look. I guess it goes with me living on a boat.
So now that the weather is getting warmer, have a look at linen.
Besides being beautiful, here a few fun internet facts for you.
"In hot weather those dressed in linen clothes are found to show the skin temperature 3°-4°C below that of their silk or cotton-wearing friends". According to some studies, a person wearing linen clothes perspires 1.5 times less than when dressed in cotton clothes and twice less than when dressed in viscose clothes."
Linen is a "stiff" fabric and is less likely to cling to the skin; when it billows away, it quickly dries out and becomes cool again. Summer clothes made of linen possess high air permeability, which allows air to flow through the fabric easily and allows the body to breathe.
Woven from the stems of flax, a vegetable fiber. Has twice the strength of cotton. Absorbs and releases perspiration quickly, thus allowing the fabric to "breathe". Linen is one of the most breathable fabrics, making it especially cool and comfortable to wear in the heat.
Looking for some of your own pieces?
Try these: Amazon is so easy because you can order in your PJ's late at night, they deliver to your door, and if they don't fit, you can send them back. No weird fitting room lights!